Dtm Waterbased Polycromatic Paints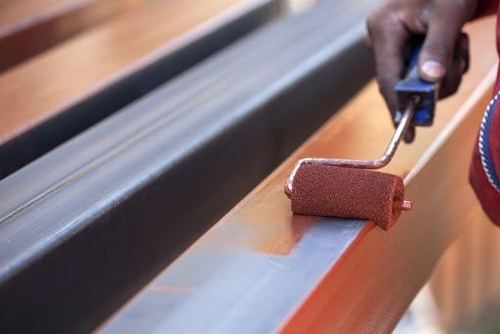 Dtm Waterbased Polycromatic Paints
Product Description
DIRECT TO METAL
(D.T.M)
PROTECTIVE METAL COATING
NanoDTM is water based 100 % polychromatic coating for painting Metal, Iron and Steel surface.
Extremely durable, versatile proven, top quality water based polychromatic resin based that resist water
absorption, exterior weathering, rust and corrosion.
Engineered to form an extremely strong bond to all types metal surface. Proven performance galvanizes
metal, previously printed metal, iron steel, metal structure and many other substrates.
Extremely good quality paints with superior hiding, brightness and durability.
DTM is a proprietary, high performance direct to metal coating. Being water-based it is
safe for the user and the environment. DTM has very low odor. Clean-up is achieved with water
rather than harmful and smelly solvents.
Top quality, specially formulated 100% Polychromatic Water based, versatile, high
performance coating.
Dries and cures fast to form a extremely DURABLE, STRONG, WATER & WEATHER RESISTANT
COATING.
Coverage 65-75 sq. ft / ltr. Dry to touch in 30 minutes. Re coat in 2 hrs.
Can be applied on primed or properly prepared metal structures.
Works great even on concrete, masonry, brick, pavement, stone.
Extremely Good Quality Paint with Superior Hiding, Brightness and Durability.
Can be applied with dipping,roller, brush, and all conventional and airless spray equipment.
Available in White, std. Colors, custom colors. Can be tinted with universal colorants.
Contact Us
6, Shivadhin Industrial Park, Behind Hp Pump, Indore Highway, Amba Hotel, Chandial, Ahmedabad Gujarat India 91--9898422147
Phone :09898422147